We fill new and existing prescriptions in-store, by phone, online, and with our mobile app.
Transfer your prescriptions to our pharmacy using our simple and secure online transfer form.
Visit us in store or get in touch with a member of our pharmacy staff. We're always happy to assist you.
Become a Pharmacy Insider
Subscribe to our newsletter for promotions, health news and savings
Your Pharmacy Experts
Trust Us With Your Health
At Anchor Pharmacy, we believe that being a local independent pharmacy means providing healthcare services to our patients that are customized to meet their needs. Visit us today and let us take care of you.

Download Our Free App.
Your health information in one place.

✓ Refill 24/7 »
✓ Set Reminders »
✓ Save on Medications »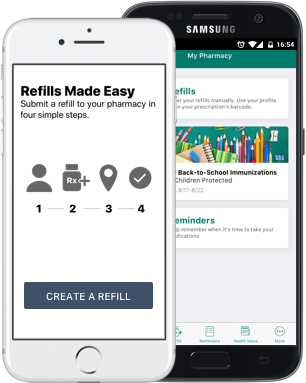 Kelley P.
"Janell and the staff at Anchor Pharmacy are amazing! They go above and beyond. I would definitely recommend this wonderful pharmacy to anyone. Thank you so much!!!!"

Doll S.
"Today a young lady named Courtney assisted me with checking for my prescriptions. She is very professional, yet has a sunshine within her voice. She has so much knowledge and uses it as she listens to each thing being said. "

Karen H.
"They are always friendly and fast. I take some medications that the chain pharmacies can't ever seem to get but Anchor has never let me down. plus they deliver which is a major bonus since I'm unable to drive anymore. I highly recommend them."
Anchor Pharmacy combines high quality products with personalized care. Our staff is happy to help you with any questions you may have.
Check out our weekly health news blog, or subscribe to our newsletter and receive updates on health articles, promotions, specials and much more.
We offer a wide variety of services including conventional prescription filling, compounding, medication synchronization and much more.

We'd Love To Hear From You
At Anchor Pharmacy, we're committed to helping you live a healthier life. Our pharmacy staff would be happy to help you with any questions you may have.